The two-time Paralympic world champion Olivia Breen had just wrapped a long jump competition at the English Championships on Sunday when she was approached by an official who said her competition shorts were "too revealing" and suggested she buy another pair.
"I didn't know what to say," Breen later told Sky News. "I just looked speechless."
A day after this exchange, the European Handball Federation said it would fine Norway's women's beach handball team €1,500, or about $1,760, as a penalty for the players wearing shorts instead of the required bikini bottoms during a match over the weekend.
As athletes compete in the Tokyo Olympics and the Paralympics on Aug. 24, a long-running debate has reignited over the dress code standards for women athletes.
This year's games will see a record number of women competing — about 49 percent of all athletes. Yet women athletes, particularly those of color, continue to face enhanced public scrutiny for their looks, from their hairstyles to the cut of their uniforms. This societal pressure is compounded by formal dress code regulations and unofficial uniform traditions that do not serve any athletic purpose, leaving critics to question why they exist at all.
"It's really a policing of certain bodies," said Katie Sveinson, an assistant professor in the School of Sport, Tourism, and Hospitality Management at Temple University. "It's people in power who are deciding what is acceptable for athletes to wear, or it is a perception of outsiders saying what certain bodies should be wearing."
Breen and other women have been criticized for clothing deemed revealing or indecent, even though her shorts complied with regulations. In other cases, women are expected to wear skirts, bikini bottoms or other clothing that can make them feel uncomfortable or sexualized.
Each sport has a committee that determines uniform protocols. But vague wording in some of the policies gives officials broad discretion to determine what falls outside the rules. The International Tennis Federation, for example, requires "clean and customarily acceptable tennis attire," a guideline that athletes like Serena Williams have pushed the boundaries on by wearing outfits that have included a black tulle tutu and a black catsuit.
In 2014, the Colombia women's cycling team drew backlash for wearing uniforms, reportedly designed by one of the team's members, that included a section of beige-colored fabric covering the women's waist and hips. The team faced accusations that they appeared to look naked, and the president of the International Cycling Union at the time tweeted that the outfits were "unacceptable by any standard of decency." But the uniforms did not appear to violate any rules on acceptable competition attire — and drew comparisons to beige uniforms worn by a team of male cyclists during the 2010 season.
Currently, beach handball is part of the Summer Youth Olympics, but not the regular Games. The international governing federation requires women beach handball players to wear bikini bottoms with "a close fit," with a side width that can be a maximum of 10 centimeters, or 3.9 inches. The men, however, can wear looser shorts that stop 10 centimeters above their knees.
A spokeswoman for the International Handball Federation said she did not know the reason for the different rules, according to The New York Times. Members of Norway's women's handball team told reporters they knowingly defied the rules to spark a conversation about the uniform requirements.
"We are overwhelmed by the attention and support from all over the world," the team's Instagram account posted after news of the fine broke. "Thank you so much to all the people who support us and help spread the message! We really hope this will result in a change of this nonsense rule!"
Over the years, bikinis in particular have become a source of contention among beach volleyball players and spectators. In 2012 the International Volleyball Federation said it would no longer insist women wear bikinis, opening the door for others like the Egyptian women's volleyball team to participate wearing hijabs and long sleeves.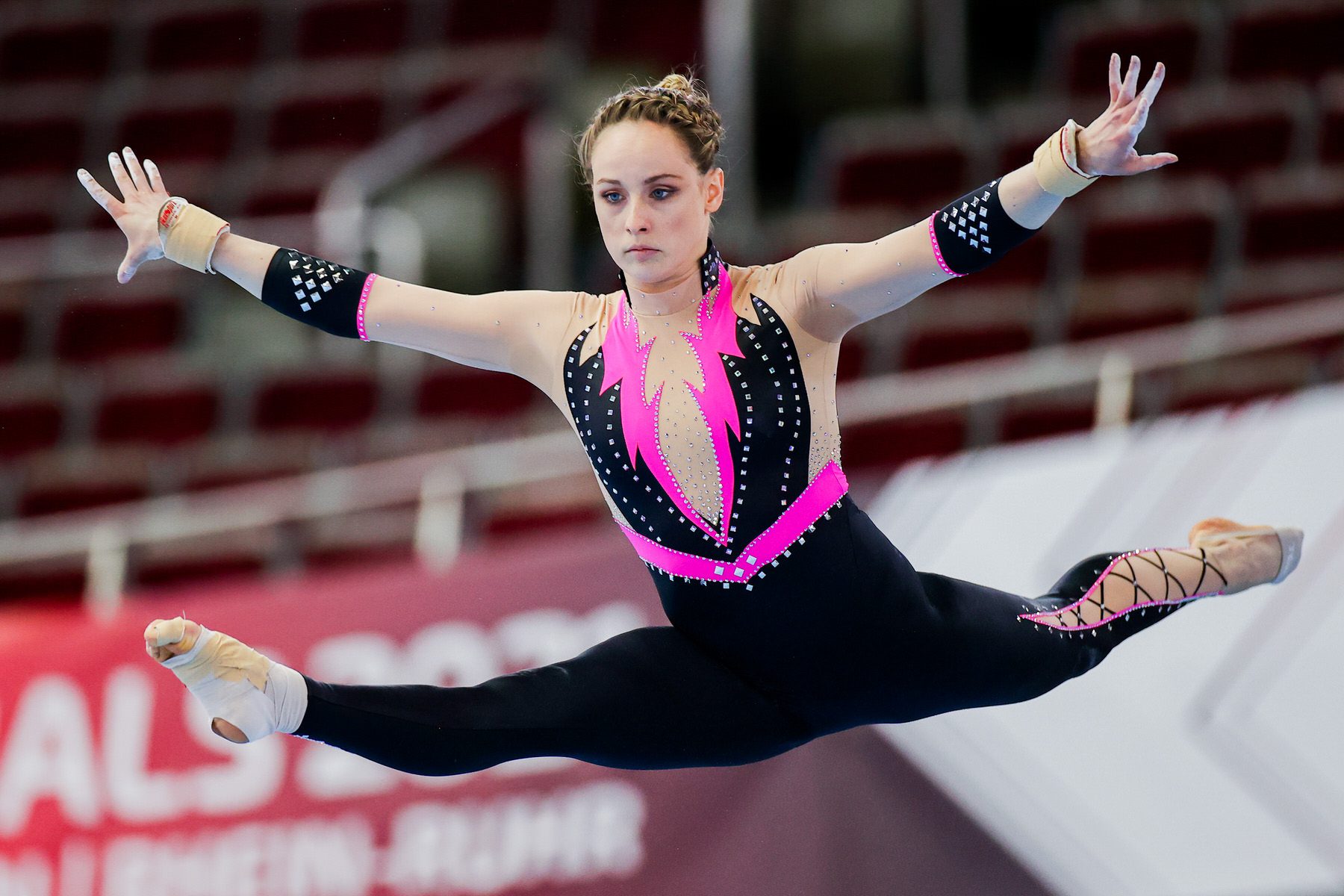 The push for more clothing options is gaining attention in other sports. While competing in the European Championships in April, German gymnast Sarah Voss and two of her teammates bucked the conventional leotard in favor of a full bodysuit, which is allowed by the international gymnastics federation but has been typically used for religious purposes. Voss, who will compete in Tokyo as well, told the BBC that gymnasts should feel open to wear whichever style of leotard makes them comfortable.
"To do splits and jumps, sometimes the leotards are not covering everything, sometimes they slip and that's why we invented a new form of leotard so that everyone feels safe around competitions and training," she told the BBC.
Research indicates that young girls who do not feel comfortable in their sports uniform may drop out or disengage with the activity. One Victoria University study about athletic uniforms in Australia found that 88 percent of the girls surveyed preferred to wear shorts for sports and 90 percent preferred to wear t-shirts.
As the conversation about diversity and inclusivity in sports grows, major sportswear manufacturers are making efforts to consider fits for people with different cultural backgrounds, physical needs and body shapes, but more work needs to be done, said Susan Sokolowski, a professor and founding director of the Sports Product Design Master's program at the University of Oregon.
After the International Swimming Federation (FINA) declined to authorize the use of a swim cap brand designed for natural curly and protective hairstyles worn by Black people, heavy criticism from the public, including several American lawmakers, prompted the federation to review its decision. In a statement, FINA said it would consider this swim cap brand and similar products as "part of wider initiatives aimed at ensuring there are no barriers to participation in swimming.
The swim cap discussion accompanies broader conversations about the systemic treatment of Black cisgender women athletes, as well as those who are transgender or intersex. Historically, Black women athletes have faced pressure to look put together and respectable in order to mitigate potential distraction or external criticism, said Cat Ariail, a history instructor at Middle Tennessee State University who focuses on gender and sports.
But they will still face racist criticism for things outside of their control, like their bodies or physical features that differ from White athletes, said Lori Latrice Martin, associate dean and professor in the Department of African and African American Studies at Louisiana State University. During the 2012 and 2016 Olympics, U.S. gymnast Gabby Douglas became the target of hateful online comments about her hair, and she opened up in an Instagram post last year about the turmoil her hair insecurities caused her growing up.
As more women in sports speak up about the superficial criticism they face and the standards upheld by officials in their industry, Sveinson from Temple University said she hopes for more thoughtful consideration of the uniform rules and practices.
"It is a narrow-minded way of thinking to say, 'This is how clothing has been, so this is how it has to be," she said, "instead of saying, 'We need to start making decisions that allow more people to participate and more people to train in ways that make them feel comfortable.'"
Breen told reporters that she filed a complaint against the official who commented on her competition shorts and wants to see more education about why such remarks are not acceptable.
"I've had lots of messages from young girls that this happened to them," Breen told Sky News. "This can't happen again … I think it's really wrong."